Jim Dobson
(Unknown – 1999)

George Gibson hired artist and former Marine Jim Dobson to join the MGM scenic studio during its latter years. Dobson developed his painting skill by studying and replicating Duncan Spencer's backdrops from MGM's inventory. Dobson worked for various studios, painting backgrounds for The Birds (1963) with Coast Backings in the Columbia scenic art facility. He led the painting of Hello Dolly (1969) at 20th Century Fox and worked with the Coakleys and J.C. Backings for years.

Warner Bros. scenic art supervisor Ron Strang brought Dobson in to lead the painting of the giant New York translucent skyline for the climax of the 1984 film Ghostbusters. In 1987 Dobson led teams of artists in the repainting of Fantasyland at Disneyland in California for Bill Anderson's company Mural Makers. One of his final projects was painting the Grand Canyon Diorama for Disneyland in Paris with Don MacDonald at J.C. Backings.

Martinez, Edward (scenic artist). 2015. Interview with Karen Maness for the Art Directors Guild Oral History Project, June., Isackes, Richard M., Maness, Karen L. 2016. The Art of the Hollywood Backdrop, ReganArts., Maness, Karen L. 2023. Hollywood Backdrop Collection for Texas Performing Arts.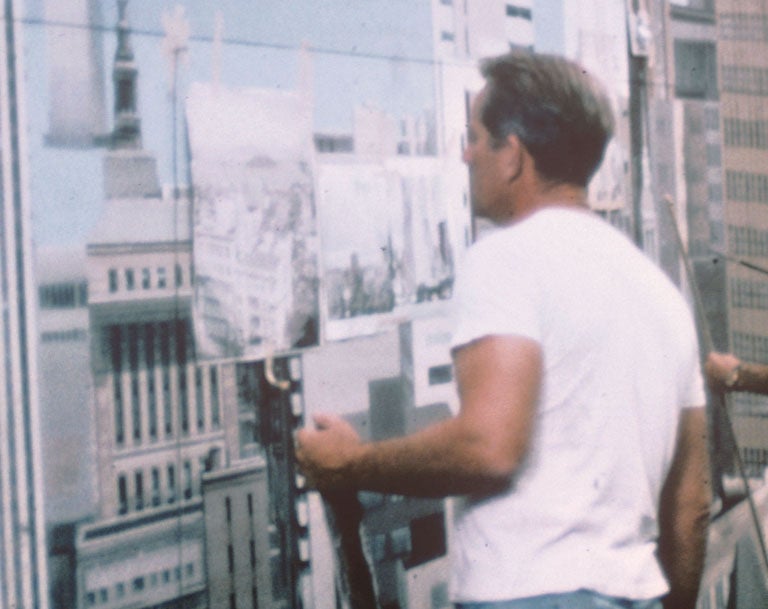 Description- Dobson at 20th Century Fox Studios with JC Backings painting San Francisco.
ADG Archives