Duncan Alanson Spencer
(1911 – 1999)

Noted as one of his generation's most sought-after scenic artists, Duncan Spencer has a thirty-eight-year career, distinguished by his mastery of drawing, perspective, color theory, and value. Gifted as an artist from childhood but behind in school after a two-year delay in education due to tuberculosis, Spencer dropped out of high school to attend the Chouinard Art School. He stayed for three months before leaving to apprentice as an Illustrator with Beaumont Graphics, creating work for an advertising firm and greeting card company. He would wake early on weekends for two years to practice drawing with Beaumont at dawn's first light.

In 1932 he joined the Painters and Sculptors Club of Los Angeles. In 1937 he shared his portfolio with George Gibson and was hired to work the same day as a Pot Boy at MGM. Spencer eventually worked for 20th Century Fox, Columbia, Universal Studios, Warner Bros., and R.L. Grosh & Sons. He worked on over four hundred films, including The Wizard of Oz (1939), White Christmas (1954), Meet Me in St Louis (1944), National Velvet (1944), Julius Caesar (1953), The Robe (1953), The Student Prince (1954), Irma la Douce (1963), The Apartment (1960), Witness for the Prosecution (1957), The Fortune Cookie (1966), and Ziegfeld Follies (1946).

Spencer painted the iconic 1957 Disneyland Grand Canyon diorama and IBM exhibits for the New York World's Fair in 1962. He left the motion picture industry for a short time in 1965 to paint the background for the Elephant Habitat at the Natural History Museum of Los Angeles. This first project led to the commission of twenty dioramas at the NHM of Los Angeles. For a time, Spencer toggled between Natural History Museum projects in Los Angeles and the Denver Museum of Nature and Science. Under the DAS label, he contracted significant projects, including the "First Vision" display at the Mormon Visitor's Center in Salt Lake City, Utah. The Schlitz Brewing Company (Now Coors) contracted Spencer to paint a 192′ x 16′ mural for their Hospitality House in Memphis. In addition, he painted the "We the People" diorama of the capital, which hangs in the Smithsonian in the Political Hall.

Spencer retired to Mariposa, California, and spent his last days painting hundreds of oil paintings and watercolors of California and the American West.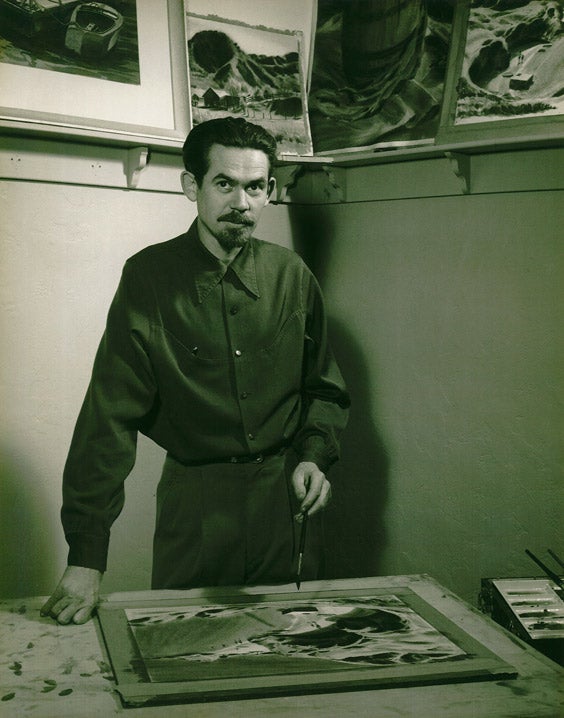 Duncan Spencer in his studio
William Brandle Collection