The University of Texas at Austin
The Future
Unique in its use, the Texas Performing Arts Hollywood Backdrop Collection plays a significant role in fine arts education at UT Austin through the curriculum of the College of Fine Arts and the Texas Performing Arts Fabrication Studios. The collection serves as a teaching device and a critical link to the historic knowledge of materials and techniques used to create monumental illusions held within each backdrop. Students benefit from the work of MGM-trained artists at the top of their profession in a period considered the High Renaissance of scenic art. Working directly with the backdrops through stabilization, restoration, and recreation, contemporary students learn a refined visual language of color theory, perspective drawing, and painting techniques easily transferable to the digital tools of the 21st century.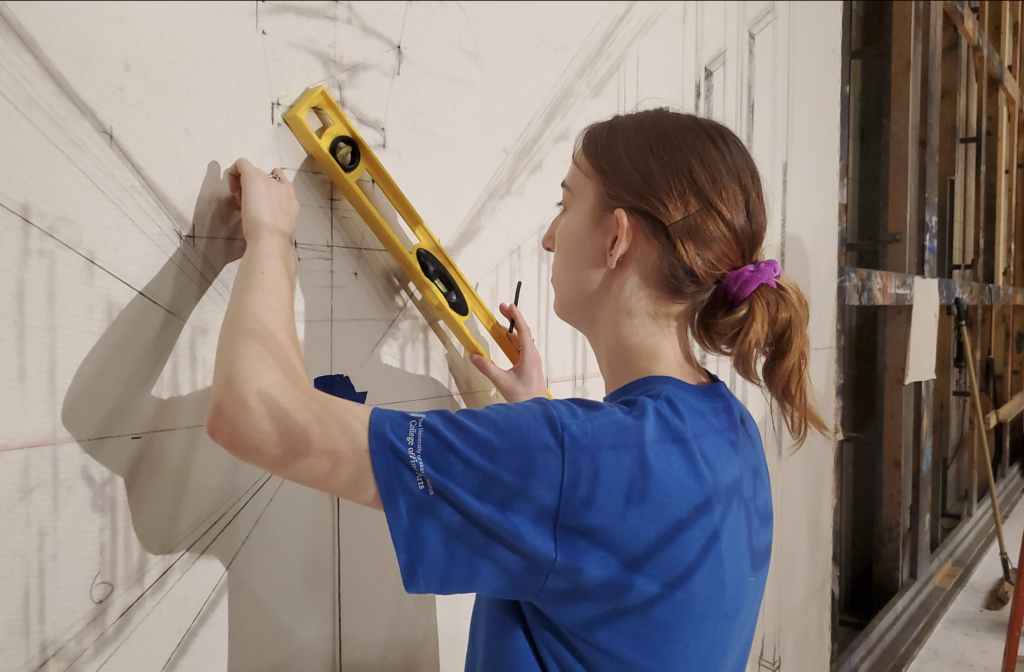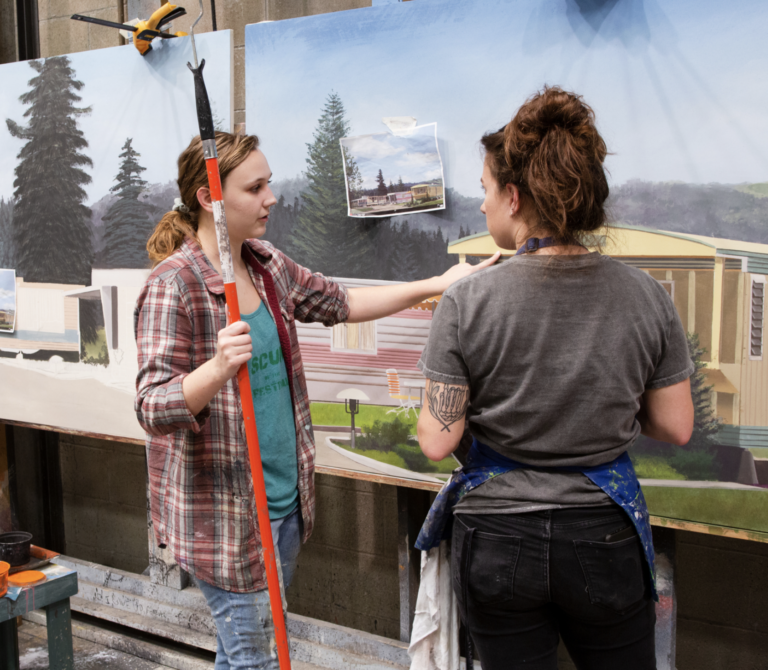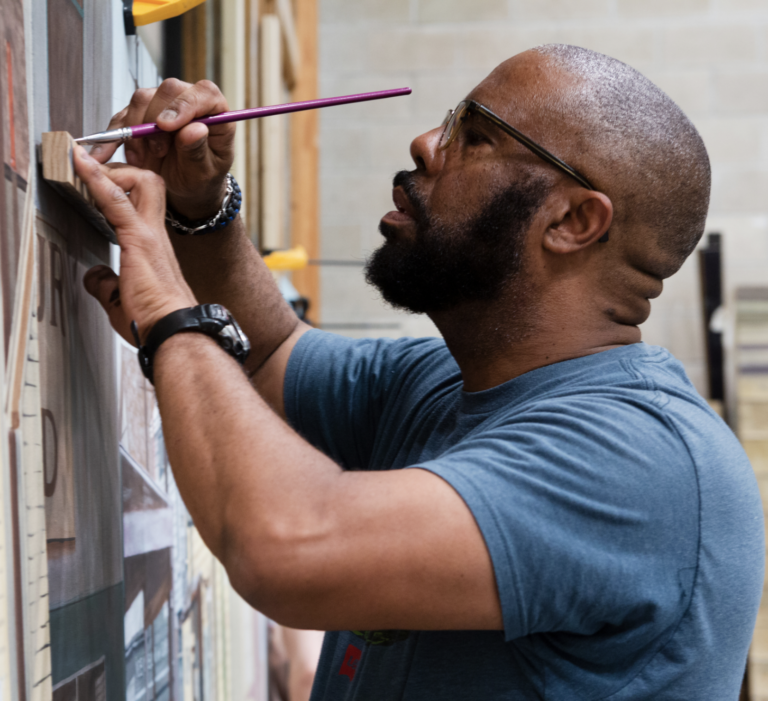 Preservation
The backdrops in the Hollywood Backdrop Collection, some created as early as 1942, have been restored and maintained by generations of scenic artists from MGM, 20th Century Fox, and JC Backings. Motion picture backdrops, considered working assets, were sent to soundstages, adapted as needed for new film productions, and returned to the studio's stock. As a result, several of the backdrops in our collection arrived too damaged to hang. Core to our mission is training students in preserving and stabilizing these historical backdrops through techniques developed by generations of Hollywood motion picture scenic artists.
Preservation of this backdrop from The Law and the Lady was completed by Michael Denering, Joe Francuz, Karen Maness, Bella Hollis, Roxolana Krywonos, Bridgette Clifford, and Ashton Murphy in the summer of 2022.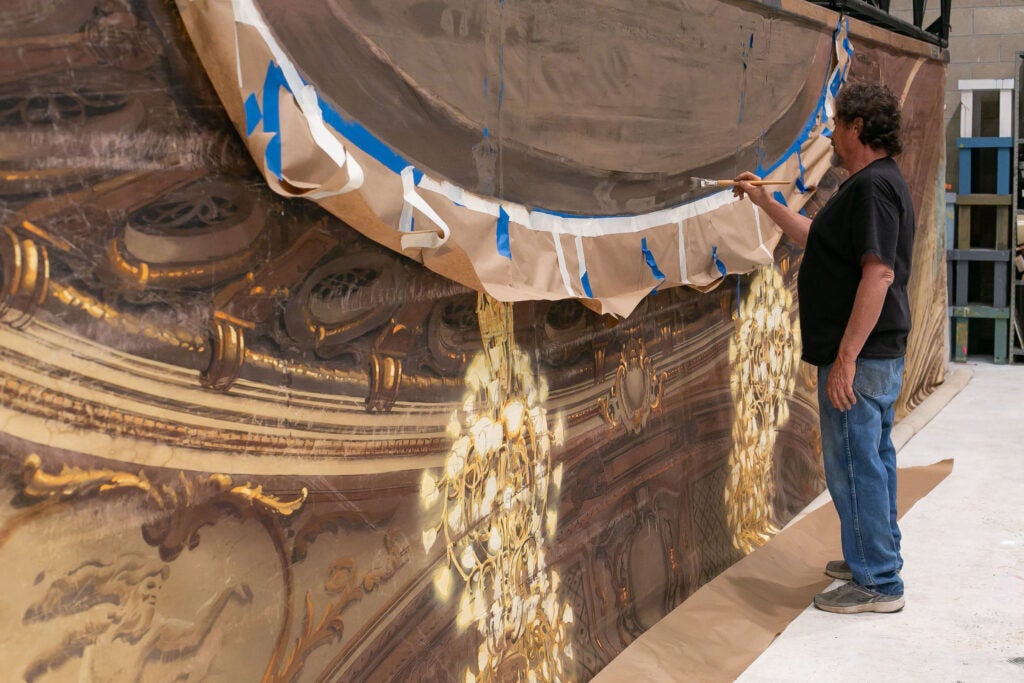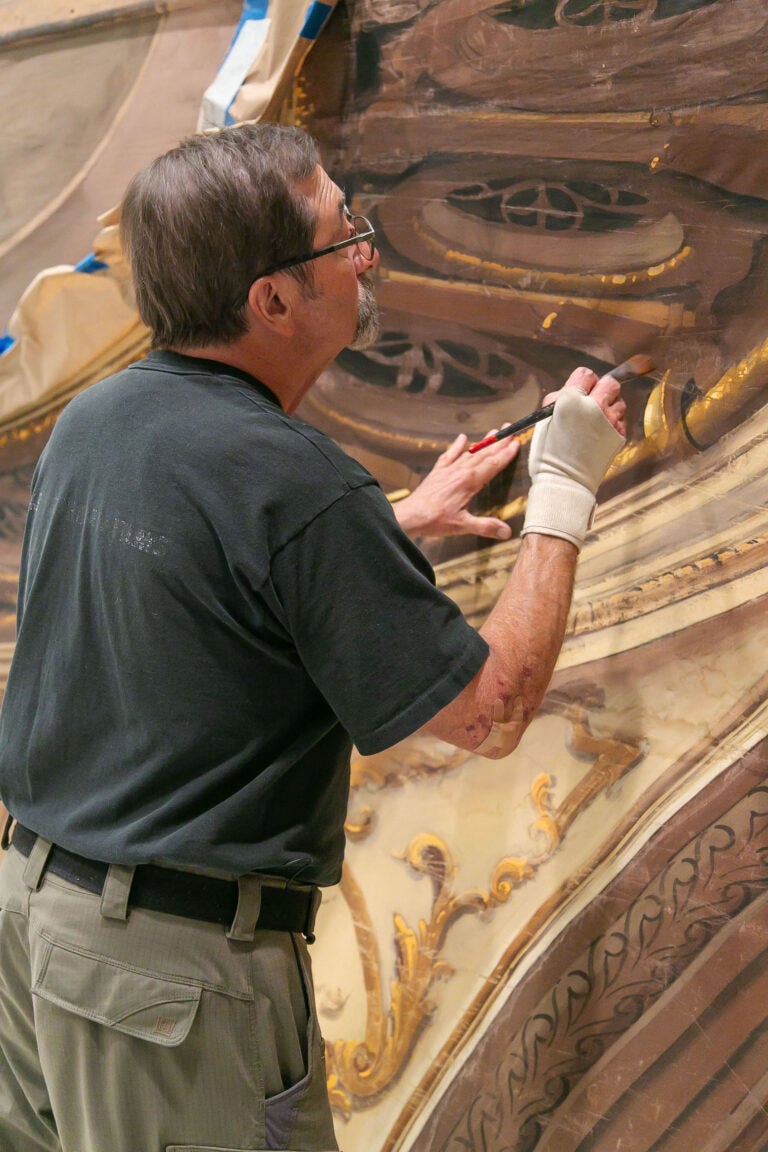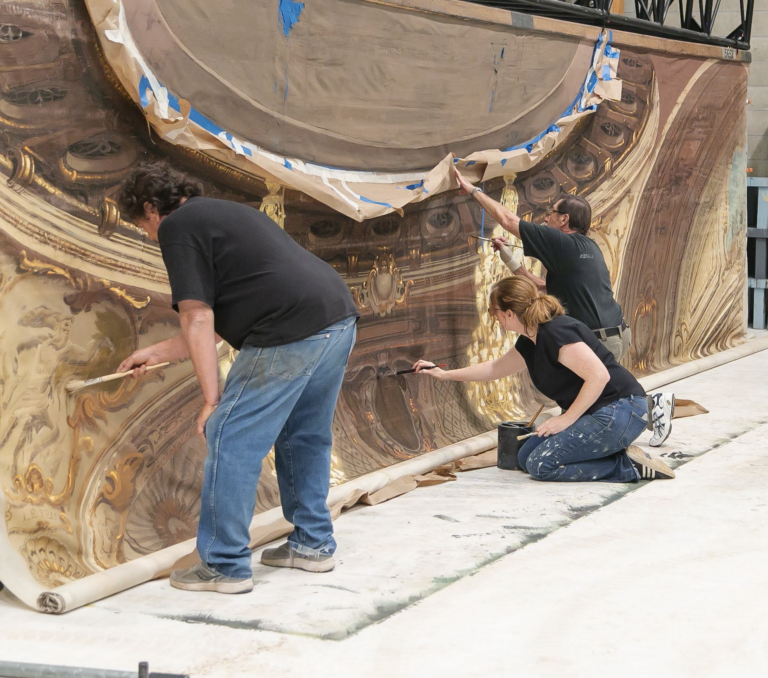 Visiting Artists
Leading Hollywood motion picture scenic artists Don MacDonald, Michael Denering, and Joe Francuz have traveled to work with our UT Austin students on backdrop painting, drawing, linear and atmospheric perspective, color theory, project management, communication, and collaboration. Traditionally these practices were passed on through apprenticeships and daily painting on projects moving through the scenic studios. However, as digital technology supplanted the need for hand-painted motion picture backdrops, knowledge transfer to subsequent generations has diminished. Working with veteran Hollywood motion picture scenic artists empowers our student designers and artists with vital visual communication tools, nearly lost to time, as a foundation for their work across media platforms.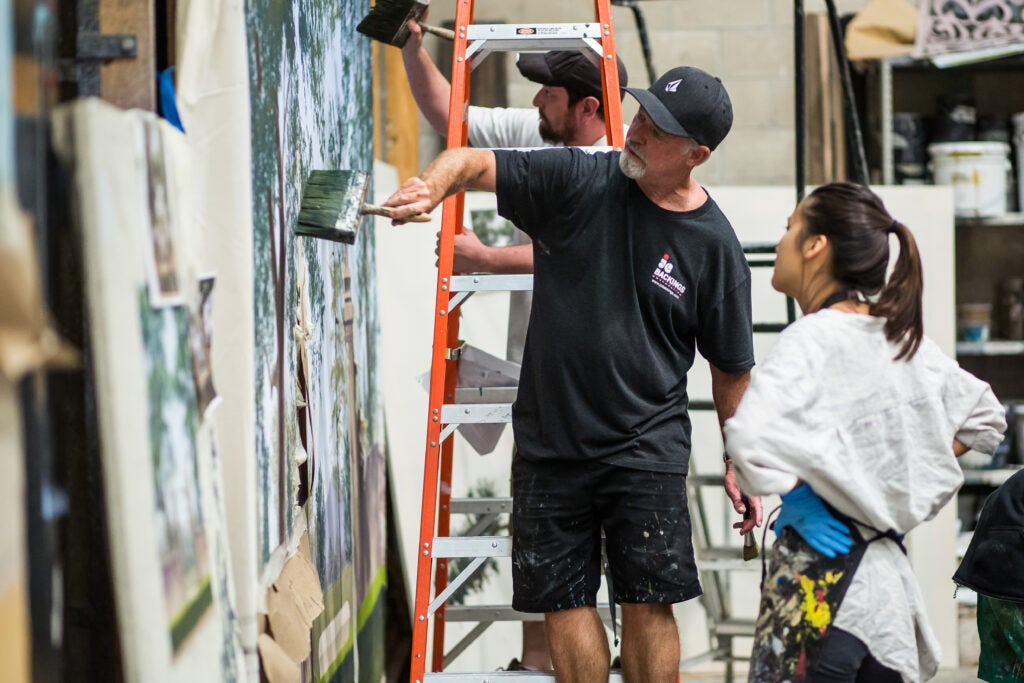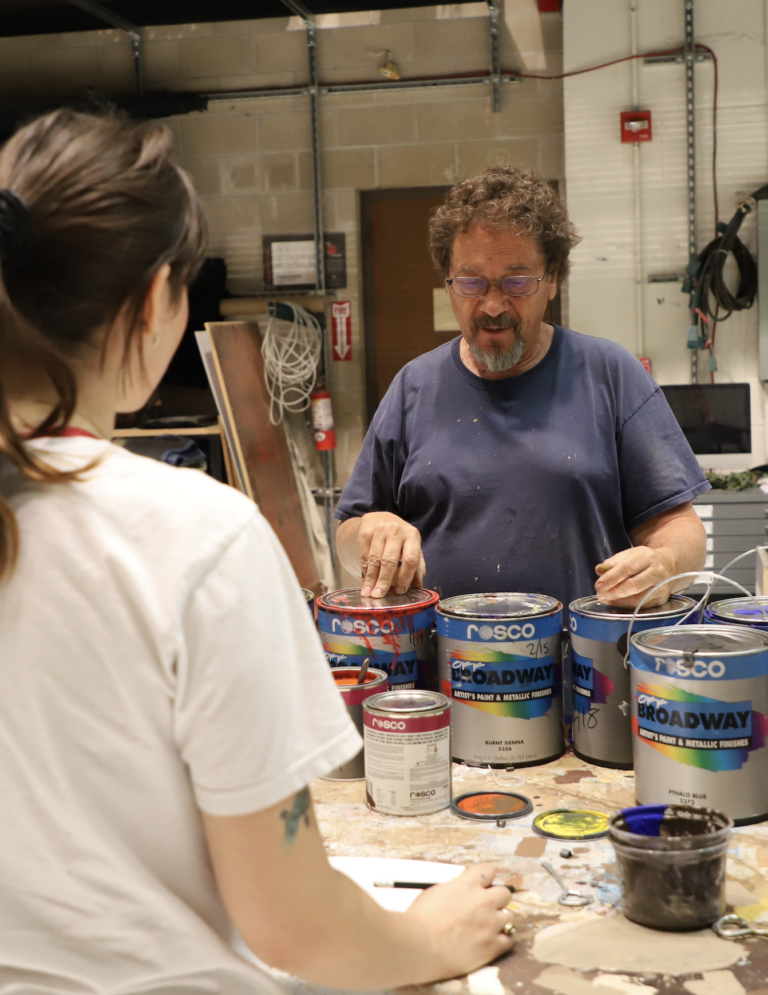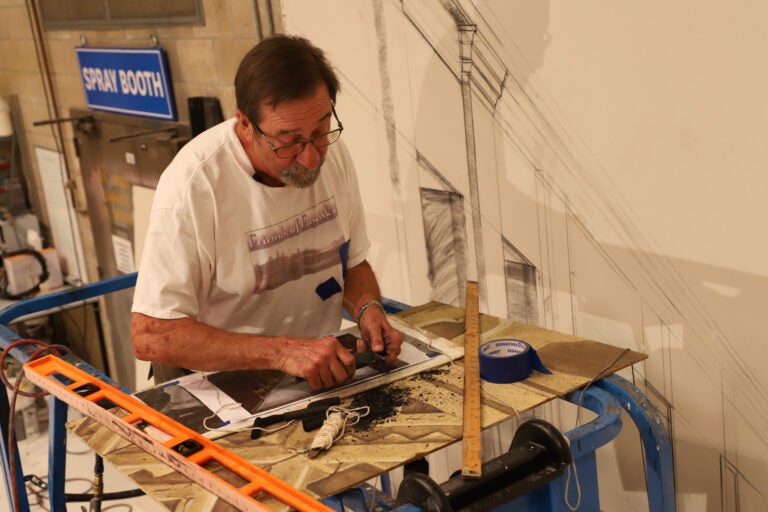 The Art Directors Guild Archives
Backdrop Recovery Project
In 2017 J.C. Backings — a family-owned business with deep ties to motion picture history — departed the historic MGM Scenic Art facility after 40 years. With a small portion of their collection slated for certain destruction, the Art Directors Guild Archive helped found the Backdrop Recovery Project — ensuring the preservation of Hollywood's golden age scenic artists' history, artwork, and contributions. The ADG's preservation efforts led to establishment of backdrop collections in museums and educational institutions in the United States and abroad. As a result, Texas Performing Arts received 68 historical paintings and now owns and teaches from the world's most comprehensive educational collection.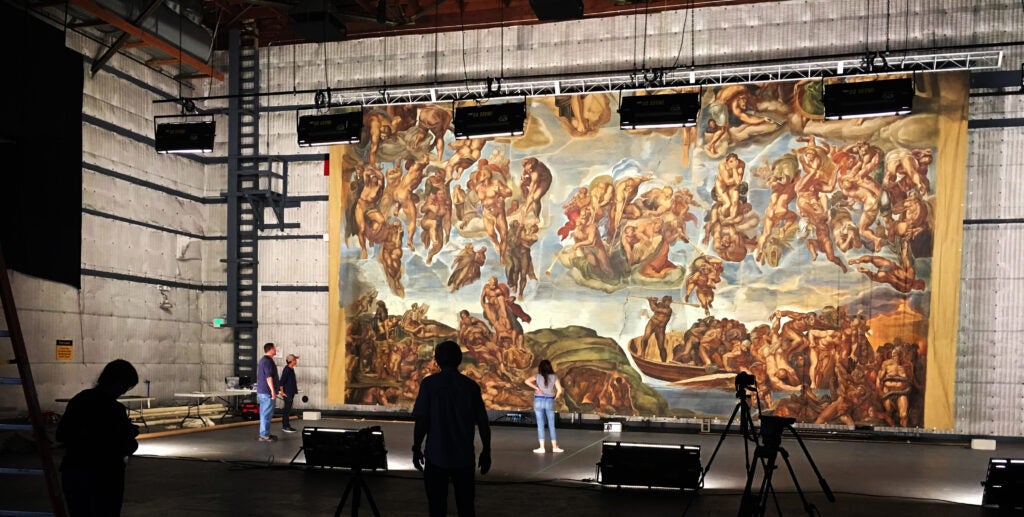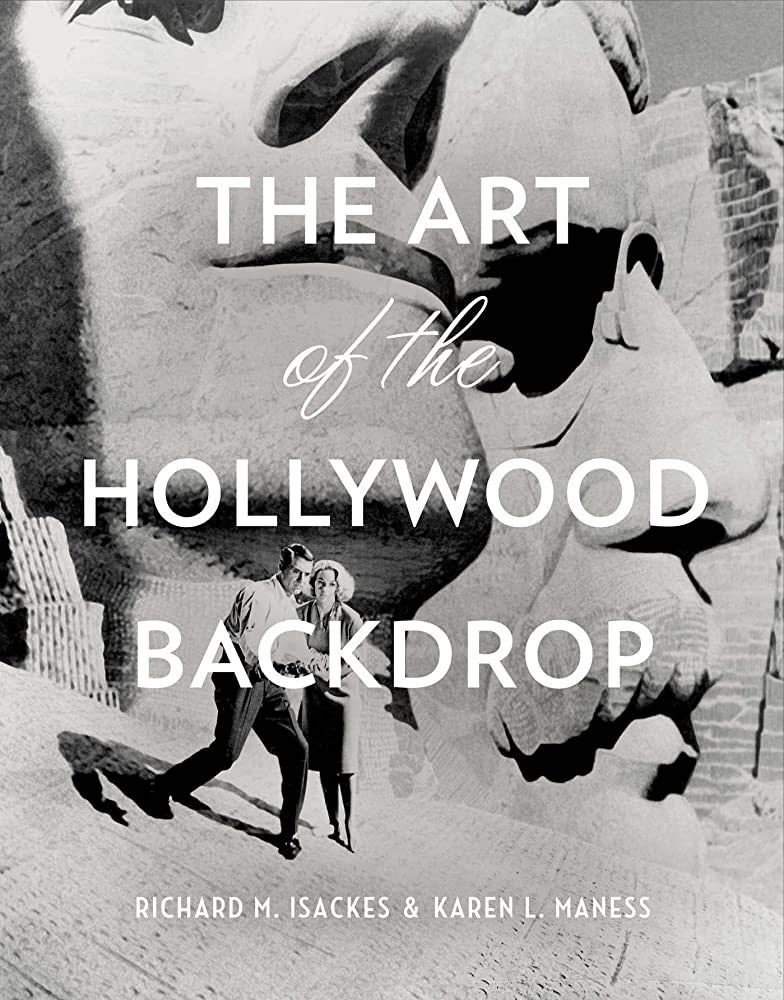 The Art of the Hollywood Backdrop Book
"The definitive behind-the-scenes history of one of Hollywood's most closely guarded cinematic secrets finally revealed painted backdrops and the scenic artists who brought them to the big screen." – ReganArts
The Hollywood studio and distribution system dominated filmmaking culture globally in the 1930s and 1940s. Leading studios MGM, 20th Century Fox, and Warner Bros. industrialized every aspect of film production, including the backdrop painting process. As a result, generations of artists trained in new scenic art techniques devised for the motion picture industry.
Painted backdrops were created as recoverable assets, cataloged, and reused in future films. Unfortunately, most of these paintings have been lost to history, disposed of, or sold off, except for the MGM and 20th Century Fox collections, which J.C. Backings Corporation acquired. Through its thriving business, J.C Backings preserved motion picture scenic art history while training generations of artists in the techniques developed in Hollywood's golden age.