Clark Provins
(1909 – 1991)

Idaho-born oil painter, watercolorist, and top MGM scenic artist Clark Provins painted for decades as a lead scenic artist at MGM. Counted as one of MGM's most influential scenic artists, his credits for the studio included The Wizard of Oz (1939), The Student Prince (1954), and Oklahoma! (1955). In 1968 MGM recreated a full-scale interior replica of the Sistine Chapel in three months for the papal drama The Shoes of a Fisherman (1968). Provins led the execution of the interior architectural elements for the chapel. By the late 1970s, after the demise of the studio system, only a few scenic artists who could execute full-scale architectural, scenic backdrops for motion pictures remained working in Hollywood. Warner Bros. Scenic Art Department called in Provins and fellow MGM-trained scenic artist Bob Oberbeck to lead the backdrop projects.

Clark Provins worked late in life painting for film and television, influencing younger scenic artists at Warner Bros. and J.C. Backings. Clark Provins' son Michael was one of the top portrait artists at Warner Bros., painting in the scenic studios with his father. Clark Provins' work remains prominent in the historic diorama halls at the Los Angeles Natural History Museum.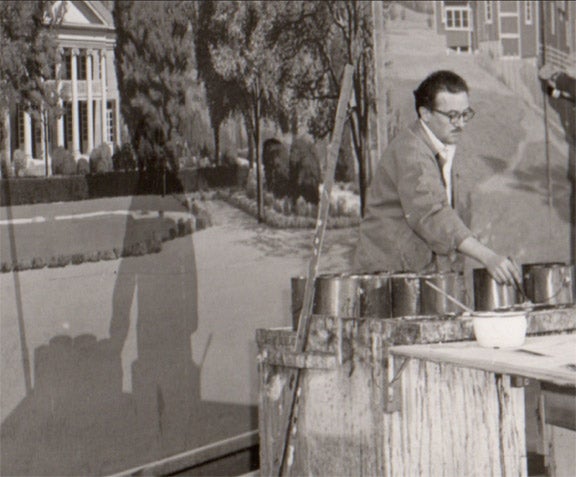 Clark Provins painting at MGM in the early 1950s.
Coakley Family Collection